There are plenty of brands that offer high-value beds at different price points for all types of customers. But not everyone is able to find a brand that matches their values, preference, and budget. To give you a head start on your journey to find the right bed, we have compiled a list of the 10 most value-driven brands in Malaysia that provides quality and affordable mattresses.
Price range: RM 1,225 – 2,487
Origin quickly became a favourite of Malaysians when they introduced the award-winning Origin hybrid mattress! It is made from a combination of six layers including its signature cooling memory foam, high-quality pocket springs, and natural latex. The mattress is designed for people with allergies, it helps to provide comfort and pain relief. The zero motion transfer technology caters to light sleepers and has a breathable cover to ensure that you can have cooling sleep.
The science-based and customer-oriented Origin hybrid mattress should definitely be on your list!
Price range: RM 1,099 – 1,899
Emma, founded in Germany in 2015, is one of the fastest-growing startups in Europe. With an international team of 203 employees and experts, they have introduced the award-winning Emma Original mattress! It is the result of the collaboration between German specialists and the brand's neuroscientists.
What's unique about Emma Original is that all three foam layers work together seamlessly to distribute all pressures evenly across the entire mattress. The second layer is a pressure-relieving ergonomic foam designed to support seven zones of our body: the head, shoulder, the curvature of the spine, pelvis, thigh, lower leg, and foot.
With every purchase, you get a generous 100-day trial, you are given the time you need to gauge if the mattress is suitable.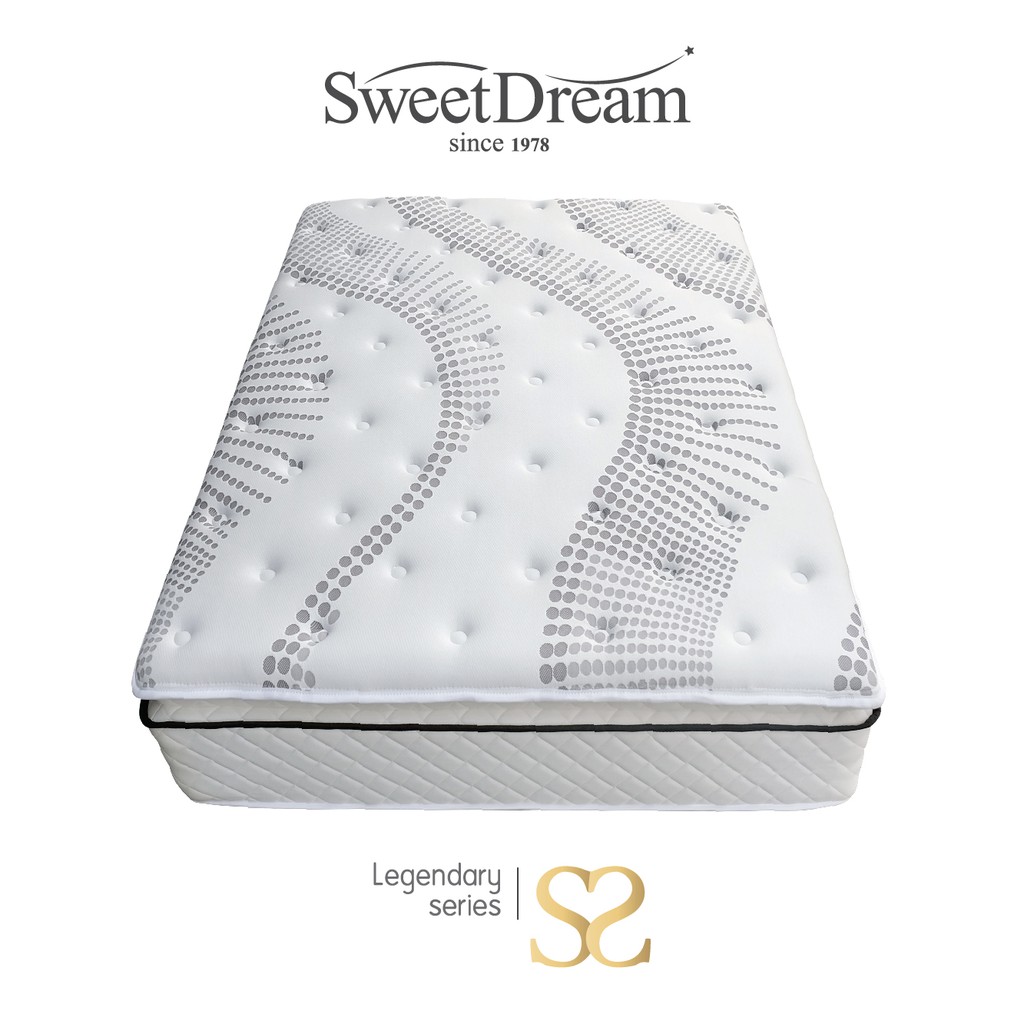 Price range: RM 2,399 – 4,099
Founded in 1978, SweetDream carried on its mission to be the best sleep solution in Malaysia. Their mattresses come at different sizes, firmness, and price. If you are looking for a long-lasting and comfortable mattress at a reasonable price, we would highly recommend their SS mattress.
Made of 75% recyclable quality materials, the SS is a medium-firm mattress that consists of one layer of a 3-zone pocket spring system under three comfort foam layers and an anti-static breathable cover. This layer combination absorbs the movements of your body efficiently, relieves pressure, and minimizes disturbances. Moreover, the mattress will adjust to your body shape after 30 nights to contour your body shape!
The best thing about SweetDream's products is that 5% of each purchase goes to The Green Ribbon Group which raises mental health awareness in Malaysia. You get to have a good night's sleep, support a local brand and contribute to a good cause! It doesn't get any better than this.
Price range: RM 1,699 – 2,999
Featured in Vogue, Vulcan, and World of Buzz, Sonno is an online mattress startup that promises to help people to sleep and live better.
Sonno's products were designed in Italy with the Malaysian temperature in mind. Their signature three-layered Sonno Original mattress consisting of Malaysian latex, memory foam, and support foam guarantees comfort, durability, and breathability. Its Ultra-soft Outlast® technology fabric cover regulates heat, you will experience the most cooling sleep even during some warm nights.
What's more, the Sonno Original is spring-free. This means it offers spinal support and pressure relief for all types of sleepers so you can sleep soundly without experiencing any discomfort.
The brand has a 100-night trial policy for all customers so if you eventually find it not to your liking, you can always return the products and get a full refund, no strings attached.
Price range: RM 1,350 – 2,595
Another local brand whose products are proudly designed and manufactured in Malaysia, Joey impresses the market with their Joey Mattress. Made of J-Foam™, a foam engineered for bounciness, breathability, deep pressure-relief and ultra-durability. The mattress helps customers sleep cool, it has the Malaysian's preferred medium firmness and gives off zero motion transfer.
The great thing about their's product policy is you get a 99-night trial so you get to trail run the mattress! Did I mention that the Joey team will also help you remove your old mattress? Get ready for a hassle-free purchase!
Price range: RM 1,579 – 2,879
Mylatex is a sub-brand of Aerofoam, one of the leading manufacturers of bedding products in Malaysia.
The Mylatex Tara Mattress is one of their best-selling mattresses. Made from 100% natural moulded block latex, it gives you proper alignment and pressure-relieving comfort. What makes the Tara mattress stands out is that it uses anti-static protection velour fabric to reduce static charge on your body. When you lie down on it, you will instantly feel the softness of the fabric against your skin and the bounciness of natural latex. You will no longer need to worry about bacteria, mould, dust-mite and allergies!
Price range: RM 2,468 – 4,468
The longest-running brand on this list, King Koil has been around since 1898. Over 100 years of working, their mattresses can now be found in more than 90 countries in the world. In Malaysia, King Koil has worked with over 2000 hotels to provide the best bedding solution. Up until today, the brand has sold 2 million mattresses all over Malaysia.
If you are looking for an elegant Scandinavian-style mattress, you would want to look through their Harmony Support Mattress. The materials used for this mattress are organically grown, naturally derived, and environmentally friendly. Made of high-quality rebound latex and Coirtex® natural fibre, this mattress feels super soft yet highly resilient and durable. Not only does it support your every sleep, but it also doubles as a graceful simplicity that cannot be found elsewhere.
Price range: RM 1,499 – 3,999
Nosda is a Malaysian brand founded by two furniture industry experts who aimed at solving sleep problems caused by back pain, sweating, or partner disturbance. The owners partnered with global partners who specialize in mattress innovation to design the Nosda mattress that provides a cooler sleep, spinal alignment, full-body support, pressure point relief, and easy maintenance.
The Nosda Original is one to look out for. This mattress is made of six different layers serving their individual purposes. Their IceSilk fabric mattress cover protects you from unnecessary heat, helps fight off heat retention, and allows you to sleep easier. The second layer is 100% Natural Latex infused with activated charcoal, which eliminates odours and absorbs body toxins. Following a cooling gel-infused, memory foam that minimizes motion disturbance is a 5-zone ergonomic layer that caters to your back. The two last layers are anti-slip support bases that guarantee a night of sound sleep.
With this mattress, your cosiest nights await!
Price range: RM 1,499 – 1,999
NeckPro is one of the most popular Malaysian mattress brands and manufacturers that offer premium quality sleep solutions at a factory-direct price. Their products come at a wide price range as they promise there is a suitable item for everyone.
The NeckPro Hallstatt from their Extreme Cool series is absolutely a steal! It is a rolled mattress comprising of a pocket spring system that supports your posture and minimizes disturbance and an extremely cool fabric cover that is breathable, cold to touch, and hypo-allergic. The mattress was designed to be 27.9cm thick which promises ultra-durability. With this mattress, you can always have a good night's sleep, especially during the hot and humid days in Malaysia.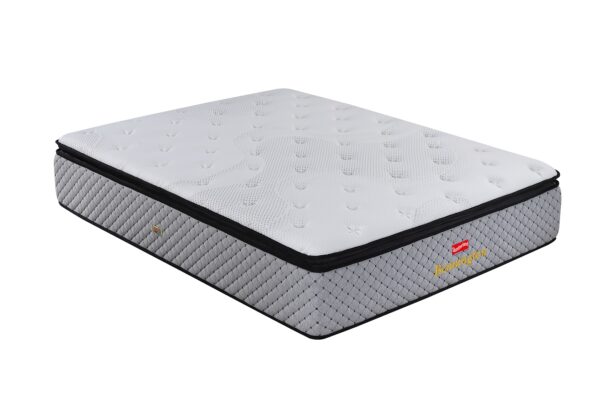 Price range: RM 2,308 – 4,369
The last name on the list is Slumberland, a US-originated furniture brand that was founded in 1919.
Their classic Bennington mattress is a cult favourite. Thanks to its pocketed spring system, 100% natural latex material, high resilience PU foam, and an anti-static fabric cover, the Bennington will offer you a restful deep sleep and discharges your body static. With this Slumberland's iconic item, you will no longer have to worry about an unsatisfactory and uncomfortable sleep.
There you have it, 10 incredible affordable and value-driven brands for you to choose from. With their companion, I am sure you will find the perfect bed in no time.