Quality sleep is an essential part of our overall health. A good night's sleep strengthens the immune system, improves brain function, and enhances our mental health. Good sleep aids in regenerating cells and regulating hormones, all of which affects our weight and looks over time. A good mattress plays a vital role in this.
Today, we'll draw your attention towards Coway Mattresses and the secret behind their popularity these days. So, let's get started with a detailed review of the Coway Mattress.
About Coway Prime Series Mattress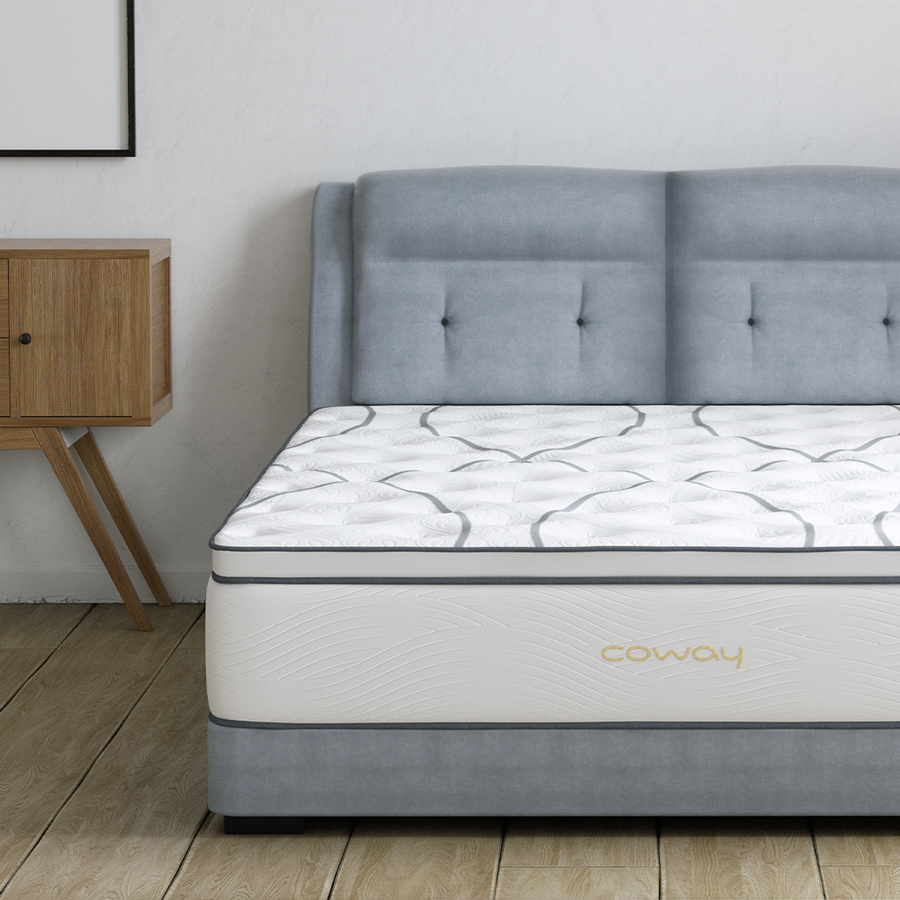 The Coway Prime Series Mattress was created to give support to people of all shapes, sizes, weights, and needs. The mattresses are available in Queen and King sizes and with the option of a bed frame.
Now discuss it in more detail by looking at the factors that made many purchase Coway mattresses!
The Factors
We were particularly impressed by the top-notch quality and comfort level provided by Coway mattresses. We realised that Coway's price may be a bit on the higher side. Hence this might make it difficult to be affordable.
Price
Coway mattresses come in different sizes, Super Single, Queen, and King Size, from RM 5360, RM 5770, and RM 6365 respectively. Many might consider them quite expensive.
Quality
This Coway mattress is made up of a combination of five top-quality layers. The memory foam is 100 percent natural latex and responds to our body's natural curves while avoiding interruptions. The anti-static fabric aids in the discharge of static energy and helps the body relax and sleep deeper. It helps you get a good sleep without any tossing and turning. It also repels dust.
The fibre used in Coway mattresses is completely eco-friendly as it was created from natural fibres found in coconuts' husk. Coconut fibre has no chemicals and is thus, suitable for both the user's health and the environment. It gives our bodies a firmer feel and makes us feel calmer, even when the weather is scorching.
Comfort level
Coway's latex foam mattresses are especially beneficial for back and joint pain sleepers because they are made entirely of latex. Heavy body areas, such as the hips and shoulders, are tenderly cradled by latex foam. The intrinsic flexibility offered by latex ensures natural spinal alignment by gently supporting lighter parts like the neck and back. It also provides gentle contouring, relieving pressure near the joints and lower back.
Coway's anti-static fibre and memory foam topper must be replaced every three years for better hygiene. This makes it the first mattress in Malaysia with a changeable topper.
Value
Although Coway mattresses are somewhat expensive than other mattresses in the market, we observed that they do offer a great value on the invested money. First of all, there's a free home delivery and free installation for Coway mattresses.
You also get free mattress services on the second month and every 4 following months for 5 years, along with free topper replacement after 3 years. There's a warranty of five years on Coway mattresses. Now that's something that really impressed us a lot.
About Origin Mattress
Let's discuss Origin mattresses in greater detail!
Origin is a mattress manufacturer based in Germany. Their hybrid mattress has many fantastic features. Moreover, it's quite affordable and super comfortable. It includes up to six layers, including natural latex, cooling gel memory foam, supporting pocket springs, and it is a hybrid.
Top Layer:
Hypoallergenic, ultra-soft premium surface layer allows air to travel through, giving you the feeling of lying on an excellent surface.
Second Layer:
Made up of Natural Latex, this layer dissipates heat while providing a natural bounce back and tensile strength to the mattress.
Third Layer:
It has the Origin Cooling Gel Ventilated Memory Foam and uses Origin's Hypercool technology to improve heat dissipation. It also has the buoyancy that we expect from good memory foam.
Fourth Layer:
The Origin Reflex Support Layer comprises a mix of fantastic re-bound cell foam and latex that smooths out the mattress' surface and provides a pain-free sleeping experience. It also allows pocket springs to perform to their full potential.
Fifth Layer:
This layer prevents slipping and dipping at the sides by utilizing Origin's unique edge support technology.
Sixth Layer:
This layer, made up of MicroPrecision Springs, gives the Origin mattress a high level of motion isolation. These springs are individually pocketed and provide excellent pressure relief and support. Thanks to sophisticated motion isolation technology, each movement on the mattress is entirely isolated and does not ripple through the mattress.
None of the traditional mattresses, which use a single density and support system across the mattress, perform as well as this hybrid design.
Having looked at the comfort level provided by Origin mattresses, let's now analyze certain other factors that give Origin mattress the upper hand over Coway mattress.
Price Range
Compared to Coway mattresses that start at as high as RM 5360, you can get a single-size Origin mattress at merely RM 1670. The Kingsize Origin mattress is also available for only RM 3765, which leaves our customers highly amazed and impressed at the same time.
Premium-Quality
Origin's cooling gel-filled memory -Foam™ is far superior to traditional open-cell memory foam in terms of heat drainage. The Airflow Tencel™ cover layer is an unusual top layer that distinguishes the Origin Hybrid Mattress from the Coway mattress. Also, its MicroPrecision Pocket Springs™ absorb most of the kinetic energy generated by every mattress movement.
Better Comfort Level
The memory foam in the Origin Hybrid allows you to sink a little deeper into the mattress and gives excellent pressure relief. At the same time, the pocket springs provide support and motion isolation.
Value
When there is movement on the mattress, the state-of-the-art motion technology ensures little to no disruption across the mattress. This makes it an excellent option for those who share a bed with a partner or children.
Apart from that, you get a 120-night trial period and a 15-year warranty. On the other hand, Coway mattresses only have a 5-year warranty on them, which suggests that Origin mattresses offer a better value on investment.
The preferred option
The Origin Hybrid Mattress promises a relaxed and comfortable night's sleep and therefore, is good alternative to Coway Mattress. It offers a fantastic value for money, which means that our customers can afford to buy Origin Mattress and enjoy maximum value on the investment! Thanks to its array of comfort technologies and excellent service, the Hybrid Mattress is a highly suitable mattress for most!